Posted on Tuesday 5 January 2016
Vets Walk Sunday 25th October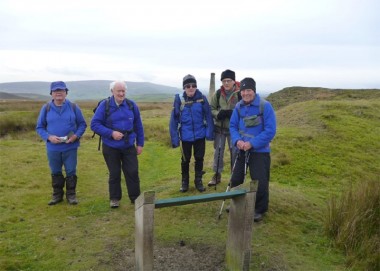 It is becoming quite a tradition to include coffee and scones in our morning schedule. The Old School House café at Hebden did not disappoint us and gave us a good send off.
Eight people duly assembled and refreshed, we pro-ceeded up Hebden Gill towards Yarnbury, where the old lead mines provided some interest. After a detour to look at the vents and the chimney, we descended to the dam, thence to the Manager's house before following the lane towards Bare House to find some shelter for lunch. So far the going had been dry but cattle had churned up the fields leading to the Dales Way and gave us our first taste of limestone mud. One of our number was to make a closer acquaintance with it in Grass Wood nature reserve. On the way back to Grassington along the River Wharfe, an alternative Strid to the one lower down the valley, was discovered, namely Ghaistril's Strid. In rapidly fading light, we fol-lowed the Dales Way along the river back to Hebden, arriving back at the cars just before head torches be-came absolutely essential.
The weather stayed fine all day, but not exactly sunny, and at a pleasant temperature for walking. We were able to enjoy the fine views over to Cracoe and Ryl-stone and in the distance, the distinctive outline of Pen-dle Hill. A fine meal awaited us in the Old Hall Inn at Threshfield.
Our thanks to all who supported the meet, Norma and Bill Hibbert, Graham Phillips, Barry Walton, David Holmes, and Maurice Tedd, Apologies to the Jays who, owing the confusion over the date, turned up on the pre-vious weekend to find nobody there.
Norma
< Back to Blog