Posted on Tuesday 5 January 2016
Fontainebleau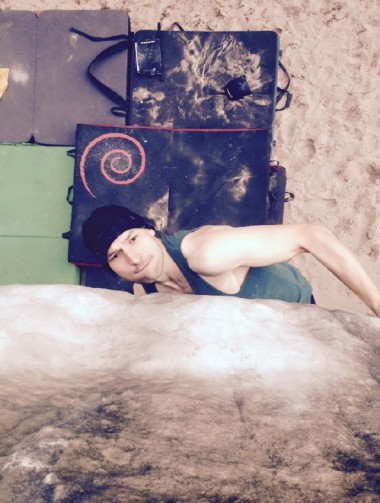 The bouldering Mecca of Europe. The boulders are hidden within the 49 thousand acres of forest that surround Font. The rock is of a hard sandstone and is an excellent training ground for the grit crags of Britain. Flights from Liverpool to Paris at a cost of around £90.00 return, a 9 seater hire van (£165.00) and accommodation in a Formula one hotel at around £11.00 per person per night made the trip well worth it.
This was my third trip to Font and probably the best one so far. We were blessed with three days of great weather.
Day 1: We went to Apremont Bizons a lovely area and easy to find in the guidebook. Our first day, all of us keen to get going we ticked various problems throughout the grades and had a brilliant day finished with a visit into the centre of Font to the blessing of a few beers or three. Back to our base in Moret-sur-Loing and a treat to a fantastic but expensive restaurant ( who cares were on hol ).
Day 2: We uped the tactics today and really pushed ourselves. Visiting Bois Rond which was a little bit harder to find but we got there eventually. Most of the group did the full blue circuit, grades from Font 4a – 6a, 34 problems in total, plus a couple of 6b's along the way. The last problem done in the dark using head torches. Again a retreat to the pub but this time with very sore fingers. I did find an Irish pub and managed to pursued my fellow friends to decline the Bière de Garde and go for the black stuff instead.
Day 3: Being a Monday Ian Atherol suggested that a visit to the popular L'Elephant would be a little bit less busier than the weekend. He was right. The boulders are nicely situated just mins from the parking. ( Ideal for an Airport Day ). By now my fingers were feeling very trashed.
Three days in Font soon gets to grips with you. Me and Terry did the orange route that ended up being like a game were you can't touch the ground. Quite an adventure that took us the majority of the day to complete.
Steve, John, Ian & Alison were contempt with staying on the blues and knocking off the occasional reds. The two
younger members at this point Will & Bry had made a good team and pushed each other on to do some very hard blacks. Well
out of my league lads.
Thanks to the six members Ian & Alison Athroll, Steve Crossly, Will Taylor, Bryan Lewis, Terry Thornton and guest John Buckly for supporting the meet.
And just a footer, as long as I can get some interest in a Font meet 2016 I will run the meet again
Tony Maddon
< Back to Blog