Posted on Friday 10 June 2016
Cow's Mouth quarry meet that wasn't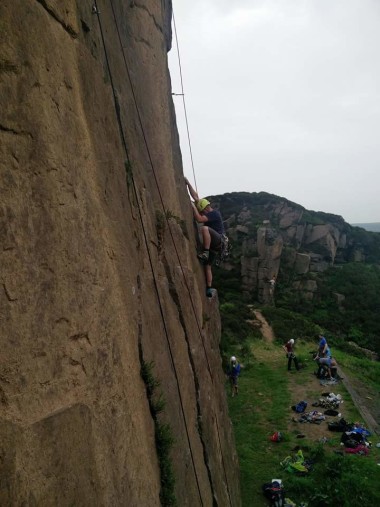 Thursday's Cow's Mouth quarry meet was a resounding success – aside from the fact it was held at Wilton 3! There were over ten members there so apologies if I miss anyone or any memorable ascents.
Elliot kicked us off with a determined ascent of the difficult Crooked Crack VS. Rob confidently dispatched Canopy HVS before Elliot's bold lead of Shivers Arete E1. Elliot completed his evening with leads on Central Crack HVS and Brantium E1.
Andy and Nathan went up Mo HS but I missed what else you did so please share.
Gary gave me a free climbing lesson with effortless leads on Central Crack HVS, Shivers Arete and Brantium E1, while I thrutched my way up Forcked Cracks VS (4b?!).
Colin and his son climbed the trickier-than-it-looks Oak Leaf Crack VD and the classic Parallel Cracks S. Tim and Chris (did I get that right) also went up Crooked Crack and Ian also went up Canopy.
It was while Ian was belaying at the top of Canopy that he took his renowned sandbagging to another level and simultaneously invented a new climbing term – to mudbag: to sandbag someone on a route that is so muddy you could grow spuds on it! I fell for it and battled my way up Kay VS; fighting through mud, arachnids and various indigenous botanical specimens to get the tick.
David provided moral support but alas no refreshments, which must have been weighing on his mind as I'm sure he retired saying something about 'tea-tea' (or was it TT?).
The evening was a great success with new relationships being forged internally and externally as we finished the night in the Wilton Arms for a drink with some members from the Preston Mountaineering Club.
What a night!
Rob Powell
< Back to Blog