Posted on Monday 6 June 2016
Anglesey Whit week Bank holiday meet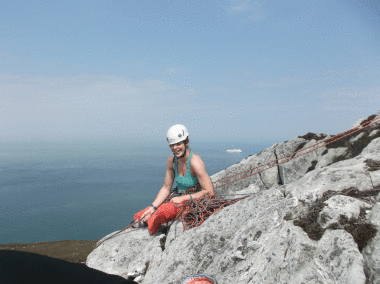 Well what can I say the weather delivered!!!
Myself, Nick and Nathan headed down to Anglesey on Friday evening after tea hoping to avoid the traffic. This plan seemed to work as we were only delayed in a few places. As we were travelling down we had a few text saying people had arrived and so had the rain. Yikes!! What was I suppose to do about it did they think I was a weather god? As we arrived at 10pm the rain had stopped. Maybe I am a weather god!!  Tents were up in a flash and we hit the bar.
The meet had been started early with Lawrence and Bernie climbing Dream of White Horses earlier in the day. From the sound of it it lived up to all of Bernie's expectations.
Saturday morning plans were hatched over a brew or two. Ian and his son Ben headed off early to try to avoid the queues on Dream of White horses whilst Rob, and Nathan went with their guide Lawrence and Bernie to see what all this sea cliff climbing was about at castle Helen. The rest of us decided to start off gently and headed over to Holyhead mountain. Steven and Katie had arrived in the morning and erected their tent tout suite and managed to get on Holyhead Mt before we'd finished our 3rd brew.
Super keen that's what we like. Over the day lots of routes were climbed in the sun ranging from classic VDiffs to Ian and Ben getting on an E1.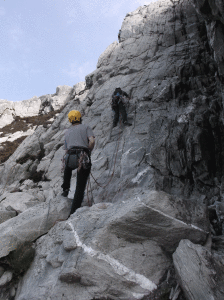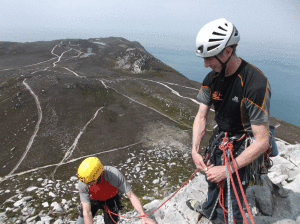 Everyone ended up on Holyhead Mt as castle Helen was very busy but Nathan, Rob, Lawence and John did finish the day on Light house Arete. Day 1 a great success with the sea cliff climbers doing Dream of white horses and lighthouse arête.
The day was ended well with Sparkey turning up and telling us he'd been in the rain for 3 hours on Tryfan that made me feel very smug 😉 All the days climbing and adventures were shared in the pub later on in the evening and plans were hatched for Sunday. Sunday originally a few of us had planned to see what the Range was all about but then we heard that Blacky and Tracey were coming over for the day to climb on Holyhead Mt. We decided a 2
nd
day on the Mt would be nice and socialable. Again the sun shone and lots of routes were climbed with a bit of sunbathing in-between. Nathan and Rob didn't join us they decided to join the queues and go and do Dream of White Horses whilst Ian and Ben went and did some more routes on the sea cliffs. It has to be noted that Steven should get mentioned for his determined climbing on King Bee Crack HVS 5a. After falling off he got straight back on it and completed it, well done we were very impressed watching whilst we sunbathed. Days climbing over it was back to camp for tea in the pub. We squashed around a couple of table as it was very busy. It was worth it though the food there was scrummy. Monday, Myself, Nick, Nathan, Sparky, Katie and Steven headed over to the Range. Ian and Ben went to have a day on Dinas Mot . Lawrence and Bernie headed over to Castle Helen and everyone else headed back home. With Nicks good guide book following we found some climbs on Quartz Vein Zawn that looked reasonable. We kitted up with Steven and Katie taking the lead heading up a severe.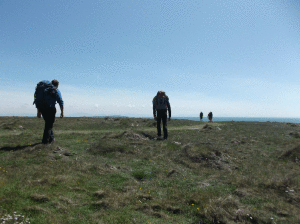 Bits started to come down, it was a tad loose. We all started on other climbs it soon became clear the rock was not only loose but also crumbly scary stuff. Sparky and Nathan followed Steven and Katie up the scary crack route with Sparky also pulling off big chunks. Nick and I also decided to do this route. Nick took it very gently but as I was seconding I wasn't so careful and managed to be dangling in air as I pulled a large hand hold off. The climb is now a Hard Severe as we have demolished it. Once we'd all had enough of scaring ourselves we wandered along the coast doing a recce of the other cliffs. Some of them had very dubious top outs. About 2pm we decided to go home with the hope that we missed the traffic. I'd like to say a huge thank you to everyone who turned up it was a fantastic sunny bank holiday with great company and some fantastic climbing. Cheers Lawrence, Bernie, Rob, Nathan, Ian, Ben, John, Katie, Steven, Sparky, Blacky, Tracey and of course Nick.
< Back to Blog